APPMK- Free Android book App (Andersen Tale_2) 1.0.0 Description

Andersen Fairy Tale 2 is the continuing of Andersen Fairy Tale 1. Only if install this story APK file into your Android-powered devices, you will read it like reading a real paper flipping book. In fact, it is absolutely for free, directly download and install without any payment. A cable line, or blue tooth can assist you transfer the APK to your mobile Android devices. You can read it at any quiet places. Like install other Android apps, there are no needs of other complex operations. If you have some perfect manuscript in hands, why don't make it into flipping Android book, magazine, comic, audio books, etc. With Admob ads embedded, you can earn commission fee or purely sell the book content. What a low-cost, low-risk but high-return electronic publications builders!

Android book app maker is an easy way to produce apps for android-powered divices without programming. Build amazing eBook apps and publish them into android market within one hour.
Android book app maker is software which help you to create ebook apps for android-powered device. Imagine being able to sell your ebook in rapidly growing android market without any programming work! It even allows you to embed advertisements in your free ebooks to make money. Once you've created your android app in Android book app maker, you can publish it online on Android market which powered by Google or other third-part markets.
APPMK- Free Android book App (Andersen Tale_2) 1.0.0 Screenshot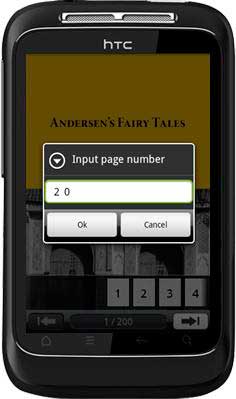 [+]
Review APPMK- Free Android book App (Andersen Tale_2)
0.0/5