APPMK- Free Android book App (Anna-Karenina) 1.0.0 Description

Anna Karenina is a novel by the Russian writer Leo Tolotoy, published in serial installments from 1873 to 1877 in the periodical The Russian Messenger. Widely regarded as a prinnacle in realist fiction, Tolstoy considered Anna Karenina his first true novel, when he came to consider War and Peace to be more than a novel. Only if install this book app in your Android devices, you can read smoothly as read a real paper book. To your surprised, you can search and quick index, simultaneously can appreciate the decent page flipping effect.

Android book app maker is an easy way to produce apps for android-powered divices without programming. Build amazing eBook apps and publish them into android market within one hour.
Android book app maker is software which help you to create ebook apps for android-powered device. Imagine being able to sell your ebook in rapidly growing android market without any programming work! It even allows you to embed advertisements in your free ebooks to make money. Once you've created your android app in Android book app maker, you can publish it online on Android market which powered by Google or other third-part markets.
APPMK- Free Android book App (Anna-Karenina) 1.0.0 Screenshot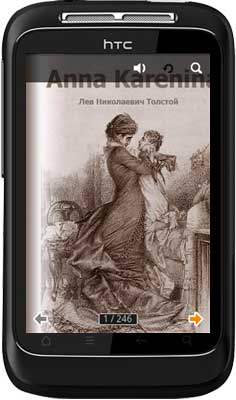 [+]
Review APPMK- Free Android book App (Anna-Karenina)
0.0/5