APPMK- Free Android book App Little-Woman 1.0.0 Description

Little Women is a novel by American author Louisa May Alcott (1832-1888). The book was written and set in the Alcott family home, Orchard House, in Concord, Massachusetts. It was published in two volumes in 1868 and 1869. We convert this book to Android app for portable readings. You can easily install it in Android like other android apps and flipping, searching, index, etc. More detailed and thinkable information you can append for example author, publishing house, international language, blog, even people who read your book can contact me by email address on the book itself.

Android book app maker is an easy way to produce apps for android-powered divices without programming. Build amazing eBook apps and publish them into android market within one hour.
Android book app maker is software which help you to create ebook apps for android-powered device. Imagine being able to sell your ebook in rapidly growing android market without any programming work! It even allows you to embed advertisements in your free ebooks to make money. Once you've created your android app in Android book app maker, you can publish it online on Android market which powered by Google or other third-part markets.
APPMK- Free Android book App Little-Woman 1.0.0 Screenshot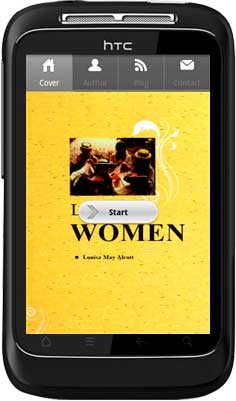 [+]
Review APPMK- Free Android book App Little-Woman
0.0/5