APPMK- Free Android book App Moby-Dick-1 1.0.0 Description

Android magazine app maker convert Moby-Dick; or, The Whale to Android book app for portable readings. This book is written by American author Herman Melville and first published in 1851, is widely considered to be a Great American Novel and a treasure of world literature. Now it is in the form of Android eBook app with stunning flipping effect and powerful interactive functions must impress you and provide much convenience. The installation is easy as same as install other Android apps. Within few minutes, you can view it smoothly with enjoying its humanized designs.

Android book app maker is an easy way to produce apps for android-powered divices without programming. Build amazing eBook apps and publish them into android market within one hour.
Android book app maker is software which help you to create ebook apps for android-powered device. Imagine being able to sell your ebook in rapidly growing android market without any programming work! It even allows you to embed advertisements in your free ebooks to make money. Once you've created your android app in Android book app maker, you can publish it online on Android market which powered by Google or other third-part markets.
APPMK- Free Android book App Moby-Dick-1 1.0.0 Screenshot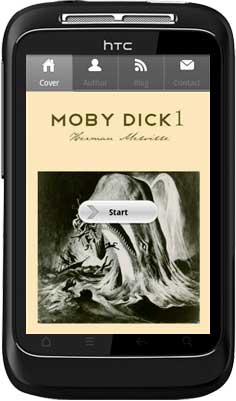 [+]
Review APPMK- Free Android book App Moby-Dick-1
0.0/5