APPMK- Free Android book App The Jumping Frog 1.0.0 Description

The Celebrate Jumping Frog in Calaveras Country wrote by American icon Mark Twain through his personal experience base on the southwestern way of life. By reading this book, you can develop particular insight and appreciation about Mark Twain unique humor and realism. This book is built in the form of Android app. You can easily install it in Android-powered devices and then view like reading a realistic page-flipping paper book. Soon after you will love this reading form and desire create your own android magazine app with PDFs in hand. Android magazine app maker enable you to make PDF and image files to Android apps without any programming skills. Embed audio file, cover, blog, email address, inner and outer page skip, all the humanized design make reading much more comfortable and attractive.

Android book app maker is an easy way to produce apps for android-powered divices without programming. Build amazing eBook apps and publish them into android market within one hour.
Android book app maker is software which help you to create ebook apps for android-powered device. Imagine being able to sell your ebook in rapidly growing android market without any programming work! It even allows you to embed advertisements in your free ebooks to make money. Once you've created your android app in Android book app maker, you can publish it online on Android market which powered by Google or other third-part markets.
APPMK- Free Android book App The Jumping Frog 1.0.0 Screenshot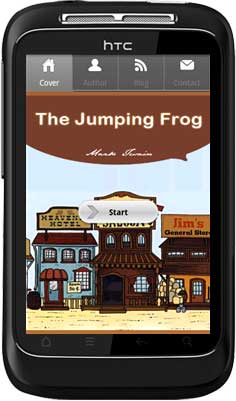 [+]
Review APPMK- Free Android book App The Jumping Frog
0.0/5