APPMK- Free Android book App The Little Prince 1.0.0 Description

Although you could think it belong to the sort of children's book ostensibly, you can find several profound and idealistic observations about life and human nature from The Little Price. This book wrote by French writer Saint-Exupéry with his excellent talent. It is said that the figures in the story inspired by himself, his wife and others people in his life. In my opinion, he must mix much experience and feelings of himself in it that we can see the world from his unique angle. What you should do just download the package of The Little Prince and then uncompressed, finally install the book APK in Android-devices. Then you can view this amazing masterpiece on your Android with stunning page-flipping effect, search, index, etc functions.

Android book app maker is an easy way to produce apps for android-powered divices without programming. Build amazing eBook apps and publish them into android market within one hour.
Android book app maker is software which help you to create ebook apps for android-powered device. Imagine being able to sell your ebook in rapidly growing android market without any programming work! It even allows you to embed advertisements in your free ebooks to make money. Once you've created your android app in Android book app maker, you can publish it online on Android market which powered by Google or other third-part markets.
APPMK- Free Android book App The Little Prince 1.0.0 Screenshot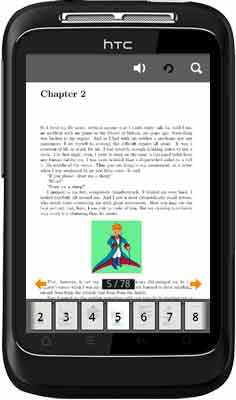 [+]
Review APPMK- Free Android book App The Little Prince
0.0/5