Resource Categories
Popular Resources
Axialis Ribbon & Toolbar Free Icons 1.0.001 Description

This royalty-free stock icon set is design for use in Windows application ribbons and toolbars. The style is dynamic and professional, making them suitable for a large variety of applications. Provided sizes are compatible with application ribbons and toolbars but can also be used in websites.
Icons are available in sizes 16x16, 24x24, 32x32, 48x48 and normal, hot & disabled states. Provided file formats are PNG, ICO and BMP. Colors are coded in RGB with alpha channel transparency in PNG and ICO icons. BMP icons are coded in RGB with magenta areas to define transparency. The pixel density has been set to 96 PPI making the icons compatible with latest Microsoft .NET development platforms such as Windows Presentation Foundation or Silverlight. They are also compatible with C++ User Interface libraries such as MFC or Codejock Xtreme ToolkitPro.
This free version is a limited set of 45 icons extracted from the Axialis Ribbon & Toolbar Stock Icons collection. It is composed of several sets such as Basic, Business, Database, Word Processing, Multimedia and more. The collection contains more than 4,380 icons and counting. We release new sets on regular basis. Visit our website for more information.
The icons included in this free set can be used in your applications without limitation of time and without obligation of purchasing the full sets.
Axialis Ribbon & Toolbar Free Icons 1.0.001 Screenshot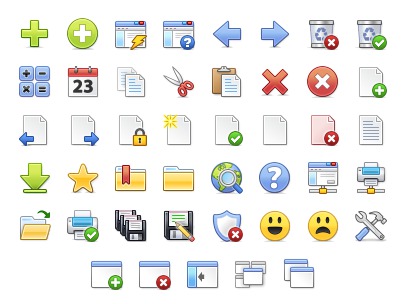 [+]
Review Axialis Ribbon & Toolbar Free Icons
0.0/5