Resource Categories
Popular Resources
BroadWave Streaming Audio Server 1.05 Description

Stream live and pre-recorded audio over the web with BroadWave streaming audio server. Create your own radio station and broadcast events for listeners over the Internet. It handles all the technical details of serving audio so it can be played by a listener in any default media player on Windows, Linux or Mac OS X. Serve up to 8 live streams and an unlimited number of pre-recorded files.

Features:
~ Plays automatically in almost all popular browsers.
~ Up to 8 different live audio streams can be served from the single PC
~ Unlimited number of pre-recorded audio files can be served.
~ View the number of listeners for each live stream.
~ Super efficient and optimized server design means that, if you have the bandwidth, up to 500 simultaneous connections can be served on one PC.
~ Automatically downsamples audio for lower bitrate listens on slow dial-up connections.
~ Static recordings can be loaded in a number of formats including wav, mp3, aiff, au, wma, aac and over 20 other formats.
BroadWave Streaming Audio Server 1.05 Screenshot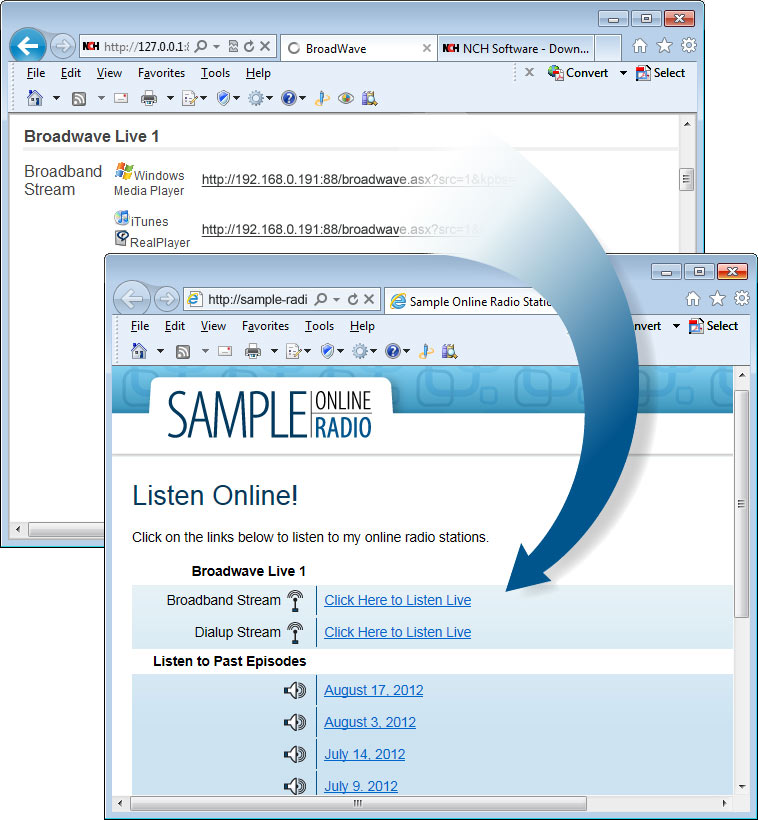 [+]
Review BroadWave Streaming Audio Server
0.0/5