Resource Categories
Popular Resources
Build a lot 2 Town of the Year Game 2.0.3 Description

Build a lot 2 Town of the Year Game, is one of many free Games you can download at Free Ride Games,

It's time to get busy again building, buying and selling houses in Build-a-lot 2: Town of the Year. There are new towns to explore, new Mayors to meet and lots of money to be made as you cast your vote for the 'Town of the Year'. Use your keen eye to pick the right locations to build parks and shops. Pick your paint colors, upgrades and landscaping to create the ultimate curb appeal and earn outstanding profits. How about a latte from the new coffee shop? Some new flower boxes from the garden center? It's all waiting for you in Build-a-lot 2 ...welcome to the neighborhood!

Download Build-a-lot 2 - Town of the Year for FREE and enjoy:

* Flip houses for big profits
* Paint and landscape houses to increase curb appeal
* Build fun parks to help beautify the neighborhood
* Construct fancy shops and earn profit sharing
* Cast your vote for Town of the Year in Campaign mode
* Improve a neighborhood at your own pace in Casual mode

Free Ride Games is the only place where you can download over 300 top games for free, including Hidden Object games, Time Management games, Match Three games, Sports games, Puzzle games, Arcade games, Card games, Board games, Flash games, Fashion games, Food games, Online games, Word games and many more. We have hundreds of choices from the leading game publishers like iWin, PlayFirst, Sandlot Games, Mumbo Jumbo etc. Download Build a lot 2 Town of the Year Game for free now.
Build a lot 2 Town of the Year Game 2.0.3 Screenshot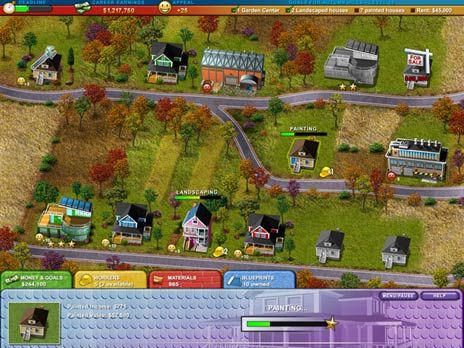 [+]
Review Build a lot 2 Town of the Year Game
0.0/5