Resource Categories
Popular Resources
Version:
2.3
Released:
2016-06-24 07:59:15
Language:
English
Platform:
WinXP,WinVista,Windows2000,Windows2003,Windows 10,Windows 8
File Size:
25.78MB
Price:
$0.00
Download Colasoft Ping Tool 2.3
Colasoft Ping Tool 2.3 Description

Colasoft Ping Tool is a powerful graphic ping tool, it supports ping multiple IP addresses at the same time, and compares response time in a graphic chart. You can view historical charts and save the charts to a *.bmp file. With this build-in tool, users can ping the IP addresses of captured packets in Colasoft Capsa (if applicable) conveniently, including resource IP, destination IP and both of them.

Colasoft Ping tool will highlight the item in the graph chart and popup an annotation contains the domain name and response time when you push your mouse cursor on it.
Colasoft Ping Tool 2.3 Screenshot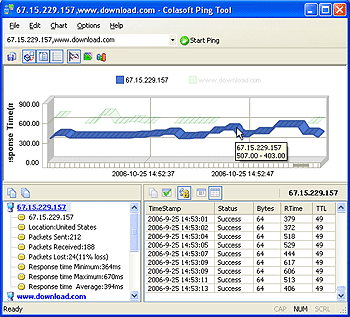 [+]
Review Colasoft Ping Tool
0.0/5