Resource Categories
Popular Resources
Cooking Dash DinerTown Studios game 2.5 Description

Cooking Dash DinerTown Studios game is a Time Management game, one of more than 400 free Games you can download and find at Free Ride Games.

In Cooking Dash: DinerTown Studios Gilda, Flo's college roommate, invites her, Cookie and Grandma Florence to the set of her new TV show. But just as the ladies arrive, so does trouble! When the hungry cast and crew threaten to walk off the set, it's up to Flo to start cooking up a storm and save the day.

Now it is up to you to prepare, cook, assemble and serve the delicious menu items from each TV-themed restaurant.

Watch for the new celebrity characters and take advantage of their star power! But beware of the director and his short temper, he will make sure everyone eats quickly and gets back to work. Can you successfully feed the egos and stomachs of the cast and crew before they walk off the set?

Download Cooking Dash: DinerTown Studios for FREE and enjoy:

* 3 new celebrity customers with special power-ups and unique features that help you score extra points.
* Over 25 decoration and functional upgrades to purchase.
* 5 new on-set restaurants, each with an original menu that now includes 2 and 3-course meals.
* 10 medals to earn throughout the game.
* More than 50 television-themed levels of gameplay.

Free Ride Games is the only place where you can download over 400 top games for free, including Hidden Object games, Time Management games, Match Three games, Sports games, Puzzle games, Arcade games, Card games, Board games, Flash games, Fashion games, Food games, Online games, Word games and many more. We have hundreds of choices from the leading game publishers like iWin, PlayFirst, Sandlot Games, Mumbo Jumbo etc. Download Cooking Dash DinerTown Studios game for free now.
Cooking Dash DinerTown Studios game 2.5 Screenshot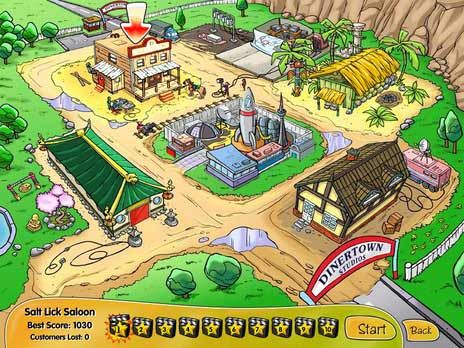 [+]
Review Cooking Dash DinerTown Studios game
0.0/5