Resource Categories
Popular Resources
Flash Banner Maker 1.00 Description

Flash Banner Maker is a free and easy-to-use flash banner generator. With AnvSoft Flash Banner Maker, you can create animated and professional-looking banners within a few clicks. You can use your own photos and texts, and combine them with dynamic text effects to create professional ad banners or flash intros.
As Freeware, however, Flash Banner Maker provides 60+ cool entrance and exit effects for dynamic texts, to help you make a stunning ad or banner. By using a friendly interface, you can generate your flash intro banners within steps. Simply follow the tabs at the top of the program and the left bar to go step-by-step in the banner making. When you have completed, just publish it in SWF and HTML format and add it to your webpage.
You can add create unique background for your flash banner: add any picture from your Mac to be the image background for your flash intro; or use 150+ different colors as the solid-color background for your flash intro banners.
200+ types of text style are provided, which enable to add message in whatever style fit for your words. Moreover, there are 60+ types of effect for you to choose either for the text entrance effect or exit effect. You may also customize the effect duration, specify the loop time, customize the banner size, add hyperlinks, etc.
As for the output flash banner, you can choose either SWF file and SWF+HTML file. Then you can insert flash banners to your own website, upload to SWF compatible websites and blogs, save on computer drive, or share with friends by email.
Flash Banner Maker 1.00 Screenshot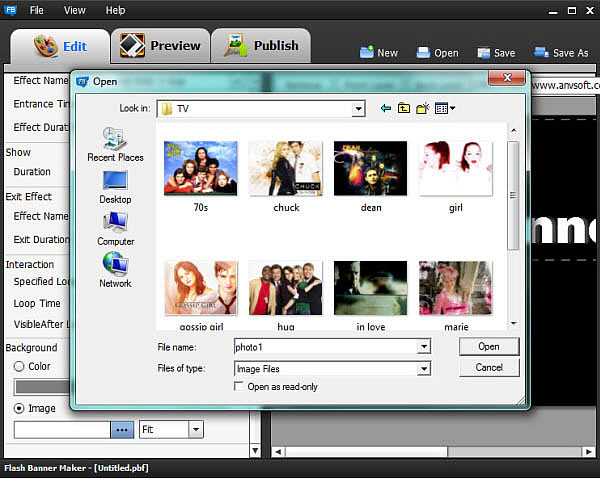 [+]
Review Flash Banner Maker
0.0/5