Resource Categories
Popular Resources
GetBlue Android Data Acquisition 2.13 Description

Communicate with TCP/IP or serial Bluetooth devices! Captured Bluetooth/TCP data is displayed, forwarded via Bluetooth, TCP/IP and HTTP to any target device (e.g. Google Docs). User data and server responses are sent to the device immediately. For testing barcode scanners (Serial Port Profile SPP, RFCOMM) or as data acquisition app.

Some Highlights of GetBlue - Data Acquisition for Android:
+ no need to key-in barcode data manually,
+ reduces input errors, speeds up operation,
+ application switching is not necessary,
+ works with each 3rd party app,
+ works completely transparent to manual user input,
+ control keys for automated cursor movements (or simulated TAB keys) are supported,
+ can be used with TCP/IP based scanners, RFID controllers and gauges.
GetBlue Android Data Acquisition 2.13 Screenshot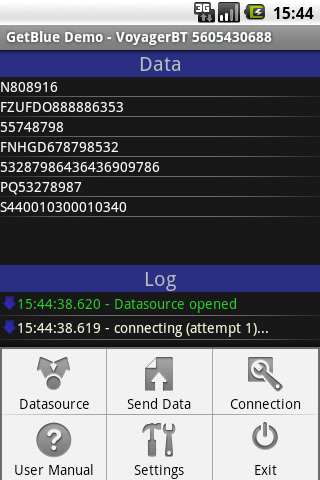 [+]
Review GetBlue Android Data Acquisition
0.0/5