Resource Categories
Popular Resources
Version:
1.4
Released:
2011-07-01 13:48:24
Language:
English,Dutch,F
Platform:
Win2000,Win7 x32,Win7 x64,Win98,WinOther,WinServer,WinVista,WinVista x64,WinXP,O
File Size:
2.15MB
Price:
$0.00
Download Kastor Free Audio Extractor 1.4
Kastor Free Audio Extractor 1.4 Description

Extract, Convert entire or parts of your FLV, MP4, AVI, WMV, ASF, MOV, MP3, WMA, M4A, AAC, WAV, MP2 files. Save to Mp3, Wma, Ogg, Wav, Flac...
Kastor Free Audio Extractor is really handy with the visual TimeLine.

A lot of formats are yet supported and we are still working to recognize new formats.

FLV to Mp3, FLV to WMA, FLV To Ogg, FLV To WAV, FLV To Flac,
Mp4 to AAC, MP4 to Mp3, MP4 to WMA, MP4 to WAV, MP4 to Ogg, MP4 to Flac
AVI to Mp3, AVI to WMA, AVI To Ogg, AVI To WAV, AVI To Flac
WMV to MP3, WMV to Ogg, WMV to WAV, WMV to Flac
MOV to AAC, MOV to Mp3, MOV to OGG, MOV to WAV, MOV to FLAC
M4A to AAC, M4A to MP3, M4A to WMA, M4A to OGG, M4A to WAV, M4A to FLAC
MP3 to MP3, MP3 to WMA, MP3 to OGG, MP3 to WAV, MP3 to FLAC
AAC to MP3, AAC to WAV, AAC to OGG, AAC to Flac

Fast, Easy, powerfull, and guess what.. it's free!
Kastor Free Audio Extractor 1.4 Screenshot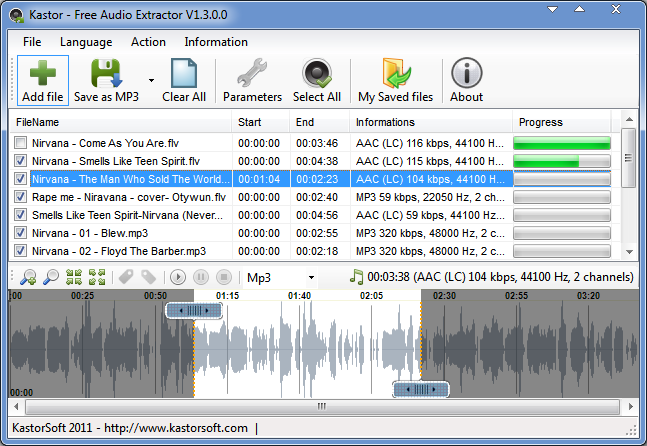 [+]
Review Kastor Free Audio Extractor
0.0/5