Version:
2011
Released:
2011-09-17 15:59:33
Language:
English,Basque,
Platform:
WinVista,WinVista x64,Win7 x32,Win7 x64,WinServer,Windows Vista Ultimate,Windows
File Size:
14.78MB
Price:
$0.00
Download Qwined Technical Editor 2011
Qwined Technical Editor 2011 Description

Qwined is a Multilingual Technical Editor supporting nearly 100 Programming Languages and Configuration File Formats out of the box, more than any other editor in the market. It is localized in nearly 30 languages covering all the continents.

Qwined is targeted for architects, engineers, IT personnel and software and hardware professionals.

Qwined has a built-in and customizable word and symbol Autocompletion and Calltip Support for for various environments. It features Microsoft Office style user interface, Code Folding, Syntax Styling, Regional Selections, Regular Expressions, Spell Checking, PDF and ZIP support, Email integration, Advanced Search/Replace and much more. Qwined is highly configurable and it integrates into Windows Explorer Menu System.

Qwined can easily be extended by third parties. Qwined has dynamic multi-language support. This means that the user interface language can be changed 'on-the-fly'. Qwined can be localized virtually in any language.

Qwined is developed with Microsoft Visual Studio 2010, it is SDK-based and it supports the latest Windows operating systems. Qwined is officially logo tested for Microsoft Windows 7. The SQL Command Line supports over 10 different database systems, including Microsoft Azure SQL.
Qwined Technical Editor 2011 Screenshot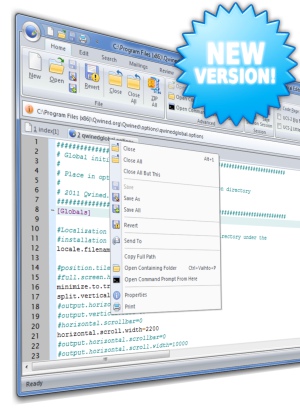 [+]
Review Qwined Technical Editor
0.0/5