Resource Categories
Popular Resources
Report Sharp-Shooter Express 2.1 Description

Report Sharp-Shooter Express is the first, free reporting engine of such high class. The component is designed for .NET Framework 1.1 and 2.0 and provides vast capabilities for designing professional and multi-functional reports in Windows Forms applications. The product supports all .NET data sources including ADO.NET and third parties business objects. It is also possible to use multiple data sources in a single report.

Using Report Sharp-Shooter Express, you can easily solve the problem of various report designs in minutes. The intuitive report wizard allows the creation of complex reports with just a few mouse clicks. A developer can design parameterized and side-by-side reports, reports with unlimited number of master-detail relations, columns, crosses, etc. Moreover, an advanced Master Report concept helps to save time while developing a large number of reports with the unified layout. Just create a template containing all recurring elements and use it as a template in further report design.

Report Sharp-Shooter Express includes the Windows Forms viewer component enabling you to print out a document at any time.

The open plug-in architecture of the product guarantees its easy integration into other projects; it also enables you to add new functionality.

Rendering in Report Sharp-Shooter is fully customizable. Using C# and VB scripting with full access to all .NET capabilities, it is possible to keep the report rendering process under full control.

In addition you can freely distribute Report Sharp-Shooter Express within your applications.
Report Sharp-Shooter Express 2.1 Screenshot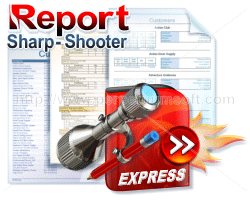 [+]
Review Report Sharp-Shooter Express
0.0/5