Resource Categories
Popular Resources
Resume Builder and Job Search Manager 1.8 Description

Free Resume Builder and Job Search Manager software to manage job search process using:
- Resume Building Wizard
- Employment and Personal References
- Attachments including certifications and qualifications
- ValidateJOB Report
- Job Search
- Build and Send Job Application

Resume Building Wizard
The wizard assists job applicants in easily building custom resumes for each job application - within minutes. The software is wizard driven with prompts and help for guiding the job applicant in creating a professional resume. In addition the software features a CLONE option that allows the applicant to copy an existing resume and modify as needed.

Employment and Personal References
Generate and send email request to past employers for Employment References and to friends and family for Personal References. The software features tools to easily manage these references and download in PDF format for printing and mailing hard copies.

Attachments including certifications and educational qualifications
Upload and manage documents which need to be attached to job applications. These documents could include education qualifications, certifications, art work, portfolio, etc.

ValidateJOB Report
Job applicants can purchase a ValidateJOB Report - an employment background history report with an easy to use proprietary reporting system, which safeguards the job applicant's private information.
It's like a pre-approval for job applicants - It shows the employer, what they can expect

Job Search
The software features an exhaustive listing of:
- Part Time and Temp Agencies
- Newspaper Classified listings
- Online Job Search

Build and Send Job Application
The 'Build and Send Job Application' wizard is an easy to use to tool for job applicants to put their application together in a professional format and email to prospective employers. The software allows easy setup and helps job applicants email numerous applications within in a short period.
Resume Builder and Job Search Manager 1.8 Screenshot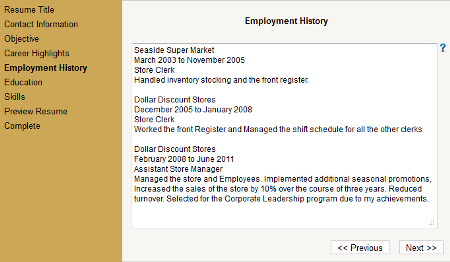 [+]
Review Resume Builder and Job Search Manager
0.0/5